Richard McMahon
21st Century Rock n Roll Troubadour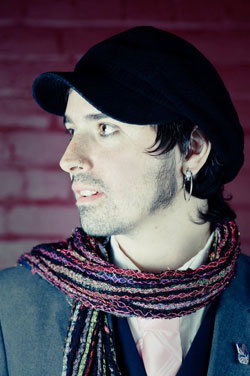 Album The Illustrated Man out now!
Demand a roll call of charismatic frontmen rooted in North East England and you'd be right to expect a who's who of rock n roll royalty. Brian Johnson, David Coverdale, Paul Rodgers, Spike, Ginger et al – the list is as long as it is impressive. But now there's a new name to contend with and a new voice to judge.
Richard McMahon might just be the next big thing if you believe in dreams and you believe in the best.
Preaching the mantra that less is more, the multi-talented singer songwriter has ditched the big productions, the big ego and the big statements.
"I'm a kid who listens to Bob Dylan, who loves the Rolling Stones and who's a big fan of Bowie," he explains. "But basically I'm just a lad who loves to make music."
Debut long player The Illustrated Man makes good on that honest and endearing self-assessment. Engaging, eclectic and, above all, entertaining, a powerful collection of songs from the heart look set to turn heads and tackle preconceptions.
Richard has worked with Vancouver based producer Jeff Dawson, whose credits include Daniel Powter and Kelly Rowland, and with Mike Frazer (Led Zeppelin, AC/DC, Aerosmith). With experience playing alongside Ian Hunter, UFO, The Quireboys, LA Guns, Dan Baird (Georgia Satellites), Terrovision, Kula Shaker, The Charlatans, Anti-Nowhere League and John Otway, the big stage is where McMahon truly belongs. Expect to see him back there very soon.
FOR MORE INFORMATION CALL SIMON RUSHWORTH ON 07949 845848
OR EMAIL simon@rushonrock.com
To contact Richard McMahon directly email contact@richardmcmahon.co.uk